New Book - Selous Scouts The Men Speak by Jonathan Pittaway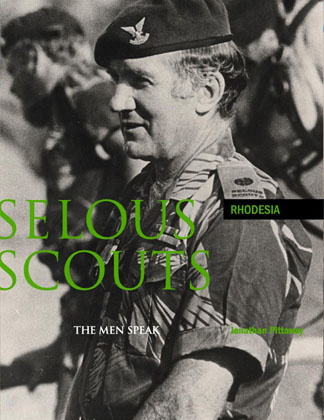 Selous Scouts Rhodesia provides a comprehensive account of the origins and history of this famous Special Forces unit as told by the men on the ground. This unique historical record features:
Full colour throughout, cover to cover
High quality binding
Excellent quality paper
Over 600 pages, 2 kg by weight
Over 900 photos
Over 200 militaria items
Over 200 documents
Over 20 maps
Over 10 tables
Over 70 stories by ex-servicemen
Roll of Honour
Honours and Awards
Full citations of all Awards
Nominal Roll
Glossary
Index
Approved by the Selous Scouts Association
Breaking with conventional military thinking, the Selous Scouts refined the concept of the pseudo group pioneered in Kenya during the Mau Mau Emergency to provide up to date intelligence about an elusive enemy. Now at last the men themselves tell their own stories of the exploits of that controversial famous unit.
To order contact:
Tom Thomas of the Selous Scouts Association: thomas@selfcopypapers.co.za
or the compiler, directly - Jonathan Pittaway: agencies@iafrica.com
© Copyright 2013 TheSelousScouts.com. All rights reserved.
All material found on this site remains the property of its respective owners and may not be copied or reproduced for any reason. By entering this site you agree to these terms.