Association News
---
---
Etchings are of F.C. Selous, Col R.F. Reid-Daly with a banner "40th Anniversary". On the reverse side of the blade is the Selous Scouts Para Wings.

The case is Rosewood with an osprey carved on the lid and ivory inserts on the sides.

---
---
---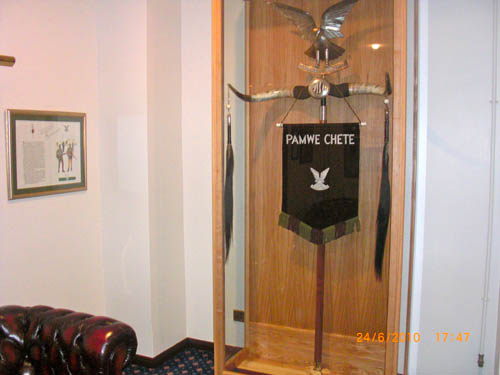 ---
Well at long last we have the new ID Cards up and running; sample attached with apologies to Aub. If you want one all you have to do is send us a passport size photograph [email picture is OK but not quite as clear as an original photo]. They are free [unless you want to make a kind donation to the association], but we will need you to pay postage, as we will be sending them by Registered Post.
---
From: Ann Bishop
Sent: 22 May 2010 01:18 PM
To: Denise Reid-Daly; Thomas
Subject: Ron Reid Daly
To Ron, David, Denise and Glenda.
cc the Selous Scouts Association.
In light of this email, I unreservedly apologise for what was an act of good faith, and as always my motive was only to bring joy to Ron, but I was wrong and I am very sorry.
My assessment of his state of health was my personal opinion, not a professional diagnosis, and again I am sorry.

Yours
Ann Bishop
My computer will not accept David's email address so I would be grateful if you would forward this on to him. I have forwarded all emails to Denise already. People will read this and know to send anything on to you.
---
----- Original Message -----
From: Tom Thomas
To: 'Ann Bishop'
Cc: Dave R-Daly ; Denise R-D
Sent: Friday, May 21, 2010 4:28 PM
Subject: Ron Reid Daly
Hi Annie,
Uncle Ron has asked me to send you this email, which he dictated to me last night, and I quote :-
"Dear Ann,
I was astonished to read your email where you took it upon yourself to set out procedures which people must adopt to make comms with me. I am equally disgusted at your references to my medical condition, which only a qualified doctor could possibly determine.
I demand that you do the following as a matter of urgency;
·Publish an apology to me, my family and the Selous Scouts Association.
·Send an e-mail to your entire distribution list, cancelling the previous e-mail messages regarding your assessment of my condition.
Should any of your e-mail addressees wish to send a message to me, they can do so to the following address thomas@selfcopypapers.co.za

Regards,
Ron Reid Daly"
---
From: Ann Bishop
Sent: 19 May 2010 11:03 AM
To: Undisclosed-Recipient:;
Subject: Please ciculate - thanks
RON REID DALY
'Give people roses while they can still enjoy the scent!"
So sorry to bring such sad news, but this time it has a tiny positive spin.
Ron is nearing his end very rapidly, and sadly it is too late now for visitors or phone calls, but he gets such strength from "the Manne" as always, so as we did with Mr Smith - if any of you would like to send a positive message to Ron, (he doesn't 'do computers') please would you email them to me, before friday, and I will put them into a binder and he can read them during his stronger moments.
It always amazes me how chuffed he gets when he hears what he meant to the men, and while he still has the strength, let's do this wonderful thing for him.
Bless you all,
Annie Bishop