The Selous Scouts Standard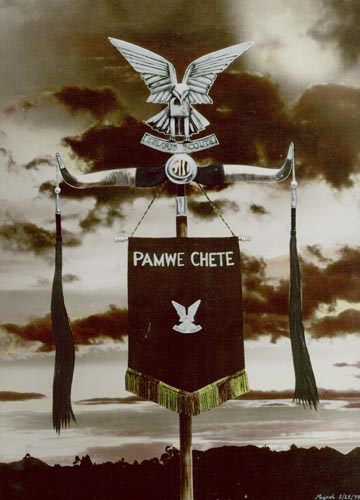 Colours, as all soldiers know, are ancient emblems whose prime function in olden days was to show soldiers in the heat of battle where their leader was positioned. As time went on the Colours were embellished with the battle honours bestowed upon the Regiment and became a source of great pride to those who served in the Regiment.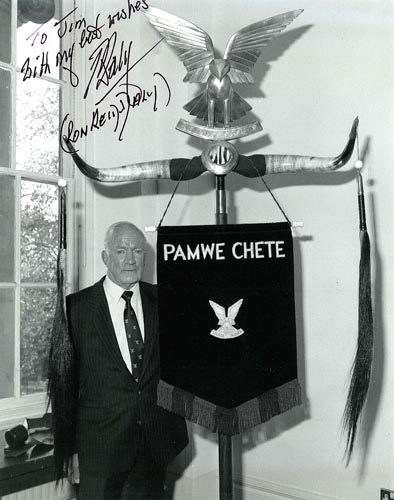 The fact that they were blessed and consecrated to God by members of the Clergy gave them a special reverence and they are always treated with great respect. Colours represent the spirit of the Regiment and embodied in this spirit are the men who died in battle with the Regiment for their country.
The Selous Scouts Colours take the form of a Standard. A Standard, as opposed to Colours, was chosen because it was felt that a Standard would be more easily understood by the African Soldiers who formed the majority of the Regiment. Each African clan has a "totem" and the Standard closely resembles this concept.
A Standard is not a Selous Scouts invention. Standards were used by the Roman and Napoleonic Armies; they were also carried by the ancient German tribes in their wars against the Romans.
Efforts were always made to incorporate appropriate African customs with European customs so that a blend of both cultures formed a backbone for the Regiment.
The choice of a Standard enabled us to achieve this. Traditionally, in African culture, the bull denotes strength, so the horns of the bull formed the cross piece of the Standard. The elephant is also widely respected as the most powerful beast in the bush, so the horns were bound together by elephant skin. A round boss made of zebra skin is positioned between the horns, the black and white soldiers who served in the Regiment. Wildebeeste tails are traditionally used by African medicine men to ward off evil spirits, so two wildebeeste tails hang down from the points of the horns to safeguard the Regiment. Surmounting the horns is a stylised osprey (The Regimental emblem) in silver, and a satin bannerette with the Regimental Motto "Pamwe Chete" which means "Together Only" hangs below the horns.
In 1998 the Standard was presented to the Imperial War Museum in London for safekeeping.
Mike Borlace, Ron Reid-Daly, Tim Callow, Jim Schneeberger and Charlie Krause (kneeling).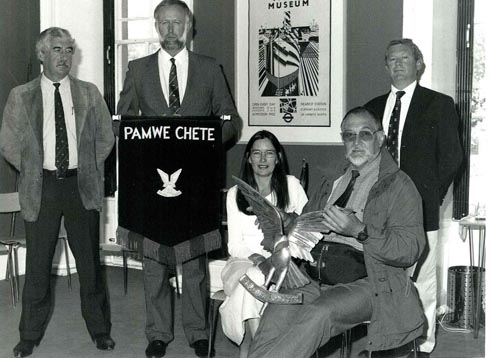 Mike Borlace, Tim Callow, Cecile Trijssenaar, Chris Schulenburg and Jim Schneeberger.